25
https://forums.nicoclub.com/viewtopic.php?p=6836721#p6836721
https://forums.nicoclub.com/viewtopic.php?p=6836578#p6836578
https://forums.nicoclub.com/viewtopic.php?p=6836577#p6836577
https://forums.nicoclub.com/viewtopic.php?p=6836556#p6836556
https://forums.nicoclub.com/viewtopic.php?p=6836554#p6836554
https://forums.nicoclub.com/viewtopic.php?p=6833556#p6833556
https://forums.nicoclub.com/viewtopic.php?p=6833553#p6833553
https://forums.nicoclub.com/viewtopic.php?p=6833552#p6833552
https://forums.nicoclub.com/viewtopic.php?p=6833551#p6833551
https://forums.nicoclub.com/viewtopic.php?p=6833550#p6833550
https://forums.nicoclub.com/viewtopic.php?p=6833548#p6833548
https://forums.nicoclub.com/viewtopic.php?p=6832675#p6832675
https://forums.nicoclub.com/viewtopic.php?p=6832670#p6832670
https://forums.nicoclub.com/viewtopic.php?p=6832669#p6832669
https://forums.nicoclub.com/viewtopic.php?p=6832668#p6832668
https://forums.nicoclub.com/viewtopic.php?p=6832649#p6832649
https://forums.nicoclub.com/viewtopic.php?p=6832643#p6832643
https://forums.nicoclub.com/viewtopic.php?p=6832637#p6832637
https://forums.nicoclub.com/viewtopic.php?p=6832633#p6832633
https://forums.nicoclub.com/viewtopic.php?p=6832630#p6832630
https://forums.nicoclub.com/viewtopic.php?p=6832628#p6832628
https://forums.nicoclub.com/viewtopic.php?p=6830896#p6830896
https://forums.nicoclub.com/viewtopic.php?p=6830891#p6830891
https://forums.nicoclub.com/viewtopic.php?p=6830801#p6830801
https://forums.nicoclub.com/viewtopic.php?p=6830733#p6830733
Array
(
    [0] => https://forums.nicoclub.com/viewtopic.php?p=6836721#p6836721
    [1] => https://forums.nicoclub.com/viewtopic.php?p=6836578#p6836578
    [2] => https://forums.nicoclub.com/viewtopic.php?p=6836577#p6836577
    [3] => https://forums.nicoclub.com/viewtopic.php?p=6836556#p6836556
    [4] => https://forums.nicoclub.com/viewtopic.php?p=6836554#p6836554
    [5] => https://forums.nicoclub.com/viewtopic.php?p=6833556#p6833556
    [6] => https://forums.nicoclub.com/viewtopic.php?p=6833553#p6833553
    [7] => https://forums.nicoclub.com/viewtopic.php?p=6833552#p6833552
    [8] => https://forums.nicoclub.com/viewtopic.php?p=6833551#p6833551
    [9] => https://forums.nicoclub.com/viewtopic.php?p=6833550#p6833550
    [10] => https://forums.nicoclub.com/viewtopic.php?p=6833548#p6833548
    [11] => https://forums.nicoclub.com/viewtopic.php?p=6832675#p6832675
    [12] => https://forums.nicoclub.com/viewtopic.php?p=6832670#p6832670
    [13] => https://forums.nicoclub.com/viewtopic.php?p=6832669#p6832669
    [14] => https://forums.nicoclub.com/viewtopic.php?p=6832668#p6832668
    [15] => https://forums.nicoclub.com/viewtopic.php?p=6832649#p6832649
    [16] => https://forums.nicoclub.com/viewtopic.php?p=6832643#p6832643
    [17] => https://forums.nicoclub.com/viewtopic.php?p=6832637#p6832637
    [18] => https://forums.nicoclub.com/viewtopic.php?p=6832633#p6832633
    [19] => https://forums.nicoclub.com/viewtopic.php?p=6832630#p6832630
    [20] => https://forums.nicoclub.com/viewtopic.php?p=6832628#p6832628
    [21] => https://forums.nicoclub.com/viewtopic.php?p=6830896#p6830896
    [22] => https://forums.nicoclub.com/viewtopic.php?p=6830891#p6830891
    [23] => https://forums.nicoclub.com/viewtopic.php?p=6830801#p6830801
    [24] => https://forums.nicoclub.com/viewtopic.php?p=6830733#p6830733
)

Nissan Corp Links

2014 Nissan Versa Note Overview
The New 2014 Nissan Versa Note Offers Energetic Styling, Best-Level fuel Efficiency and Smart Technology
Class-leading 40 miles per gallon highway fuel economy, best-in-class*** 31 mpg city/35 mpg combined fuel economy (CVT-equipped models)
Smart packaging and ample cargo space, with Divide-N-Hide Adjustable Floor (adjustable rear load floor)
Available NissanConnectSM with Navigation System, Hands-Free Text Messaging Assistant, RearView Monitor and class-exclusive Around View Monitor
Starting Manufacturer's Suggested Retail Price (MSRP)**** of $13,990 USD
The Nissan Versa lineup, which has been the longtime sales and share leader in the competitive United States entry-level segment, gets a dramatic new look with the launch of the all-new 2014 Nissan Versa Note. The second-generation hatchback goes on sale at Nissan's U.S. dealers in June 2013 and gives notice that in an era of changing consumer needs and expectations, Versa intends to remain far ahead of the rest of the entry-level pack.
Pierre Loing, vice president, Product Planning, Nissan North America, Inc. said: "As the companion to the popular Versa sedan, the all-new Versa Note celebrates the unique qualities of its 5-door hatchback design - something we are calling 'Your Door to More.' Versa Note is a passion enabler, thanks to its exceptional combination of versatility, technology and value. It's transformative, satisfying owners' emotional and rational needs with features such as sleek styling and features like our Around View Monitor at an affordable price."

The Note designation leverages its global presence and appeal, while staying true to and celebrating Versa's success as the best selling entry car in America.***** While sharing its advanced platform and drivetrain with the Versa sedan, Versa Note has its own distinctive look and feel inside and out. Following the high-value Versa sedan, the new Versa Note also offers more value on all grades than the previous Versa hatchback (model year 2012), beginning with its starting MSRP of $13,990 USD.
The 2014 Versa Note is offered in a range of well-equipped grade levels: S, S Plus and SV, with available SV Convenience, Sport Value Package, SL Package and SL Tech Package. Each is equipped with an advanced 1.6-liter DOHC 4-cylinder engine with dual fuel injection and Twin CVTC (Continuously Variable Timing Control).
The Versa Note S features a 5-speed manual transmission, while the S Plus and SV models are equipped with a standard next-generation Nissan Xtronic CVT transmission. Fuel economy for the front-wheel drive Versa Note is rated at a best-in-class-level*** of 31 mpg City and 35 mpg Combined and class-leading 40 mpg highway fuel economy (CVT-equipped models).
A Bold New Look - Open, Aero and Energetic
The 2014 Nissan Versa Note's sculpted, modern styling is designed to accomplish two things: provide enhanced aerodynamics to help improve fuel economy and to stand out from the crowd of entry-level competitors. Its dramatic shape and proportions provide an energetic look that reflects the active lives of its target buyers.
Along with its steeply sloped front windshield and deeply sculpted doors, Versa Note features a dramatic character line called the "squash line." Inspired by the international sport of squash, the line follows the trajectory of a squash ball hitting a wall, bouncing on the court floor and returning to the player. This "rebound path" projects the dynamic energy of Versa Note in both look and driving feel.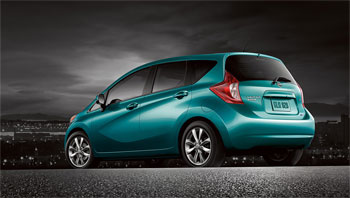 Attention to aerodynamic detail helps Versa Note achieve a coefficient of drag of 0.298 (CVT-equipped models) - a nine percent decrease over the 2012 Versa hatchback's 0.31 Cd. The large front spoiler combines with a "kick up" roof shape and low aero-drag floor structure (including front and rear tire deflectors, rear suspension beam mounted flush with floor and fuel tank deflectors) to direct airflow over, under and around the body.
CVT-equipped Versa Note models include Nissan's first-ever Active Grille Shutter, which limits the amount of air entering the engine compartment, reducing drag force by 0.01. The Active Grille Shutter is generally closed at speeds above 20 miles per hour.
The iconic front grille and large multi-reflector headlights are paired with Note's "boomerang" rear taillights, which are similar to those found on the Nissan 370Z and Nissan JUKE.
The special "vented" taillight design includes special outlets and lip to help guide air away from the body for reduced air turbulence and improved rear lamp visibility in bad weather. Fog lights and heated sideview mirrors are also available.
Versa Note's dynamic design also takes full advantage of use of Nissan's global "V" platform. It features a long 102.4-inch wheelbase helping maximize interior roominess, while six-inch shorter front and rear overhangs than the previous Versa hatchback help provide a sporty stance and parking maneuverability.
Another key aspect of the new platform and drivetrain is an estimated 300-pound reduction in overall weight - including more than 200 pounds from structure optimization and more than 50 pounds through use of the new engine, CVT transmission and driveshaft.
"We've lost the weight equivalent of an average NFL lineman, which has a significant impact on performance and fuel economy," said Loing. "The Versa Note body is also actually shorter but has more interior space than the previous Versa hatchback, another bonus feature of the new V platform."
The 2014 Versa Note is offered in eight exterior colors: Metallic Blue, Red Brick, Brilliant Silver, Magnetic Gray, Super Black, Aspen White and two all-new colors - Metallic Peacock and MorningSky Blue that are designed to create an active, energetic presence and a clean, eco-friendly image respectively.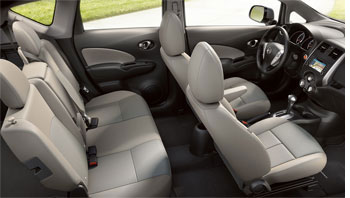 Roomy Interior, Segment-First Technology
Nowhere is "Your Door to More" more apparent than in the roomy five-passenger Versa Note interior, which provides a spacious, best-in-class total interior volume of 112.9 cubic feet and ample cargo space of 18.8 cubic feet. Cargo area liftover height has been reduced by 1.7 inches (over previous generation Versa hatchback) for easier loading and unloading of heavy or bulky objects.
Also leading the segment* is Note's front headroom of 40.8 inches and rear legroom of 38.3 inches - which is nearly 3.7 inches longer than the nearest competitor (38.3 inches versus 34.6 inches) - making Versa Note both kid friendly and adult comfortable.
"Common industry practice is to compromise either passenger room or cargo space, trading one for the other. Note's advanced design gives you both, enabling owners to take their passions - and friends and family - anywhere," added Loing.
Interior versatility is further enhanced through use of an available Divide-N-Hide Adjustable Floor. With the standard 60/40-split fold-down rear seat folded down, a large flat cargo area is created. With the rear seats folded down, the Divide-N-Hide system creates a flat cargo area. Lifting up the cargo floor board reveals a hidden area underneath to keep valuables out of sight. When more space is needed for carrying taller or bulkier items, lowering the floor board creates a deeper cargo well. The floor board is designed to stay in the vehicle yet is easily removed if desired. It's a simple solution to balance the need for a flat load floor or maximum cargo capacity or security.
Said Loing: "Along with exceptional spaciousness, Versa Note offers the ingenuity to address the needs of owners who need one vehicle to perform the tasks of many - people hauler, cargo hauler, commuter transportation and weekend warrior."
The roomy interior is also a perfect match for the stylish Versa Note exterior. The long list of features starts with the standard cloth seating, 4-way adjustable front bucket seats (S, S Plus) or 6-way seats (SV), Fine Vision instrumentation, AM/FM/CD/Aux-in audio system with 4 speakers, 12-volt power outlet, front door pockets with bottle holders, dual front and rear cupholders, front seatback pockets and many more amenities.
Heated front seats with upgraded seat cloth and stitching are also available, along with leather-wrapped steering wheel, chrome/silver accents, USB input with iPod control and steering wheel-mounted audio and Bluetooth controls. Two interior colors are offered: Charcoal and Wheat Stone.
Among the new Versa Note's unexpected and affordable technology is the class-exclusive availability of Nissan's advanced Around View Monitor. The system utilizes four small superwide-angle cameras mounted on the front, side and rear of the vehicle to provide a virtual 360-degree view of objects around the vehicle, with selectable split-screen close-ups of the front, rear and curb views, helping the driver maneuver the car into tight spots. The Around View Monitor is offered as part of the SL Tech Package.
Said Loing: "No matter what the vehicle size, people hate parking - whether parallel parking in a tight space or pulling in or out of a space with large vehicles on either side. We're making technology such as the Around View Monitor affordable because innovation and piece-of-mind should not be the exclusive territory of higher priced vehicles."
Also available as part of the SL Tech Package is the advanced NissanConnect
SM
with Navigation System with NavTraffic and NavWeather real-time advisories (SiriusXM subscription required, sold separately). The system includes a 5.8-inch color touch-screen display, Hands-Free Text Messaging Assistant, Streaming Audio via Bluetooth, Pandora radio capability (iPhone only), POIs powered by Google and Google Send-to-Car.
Along with the POIs powered by Google's more than five million points of interest, the Google Send-to-Car feature allows the user to send any address to the navigation system using a computer. Directions are delivered and loaded into the navi system when the car is started.
The NissanConnect
SM
with Navigation System's Hands-Free Text Messaging Assistant allows drivers to receive and respond to text messages without touching their cell phones. With a touch of a button messages can be read to the driver and answered with pre-loaded responses via voice recognition (not available with iPhone).
The new Note's Pandora radio compatibility lets the driver explore music based on hand-picked favorites using a Pandora-equipped iPhone through the USB input to listen to Pandora free internet radio and use the 'thumbs up' or 'thumbs down' icons to rate songs - all right in the audio system display. The available Streaming audio via Bluetooth allows driver or passengers to stream music wirelessly from any seat through connection to a Bluetooth-enabled audio device, including a tablets and smartphones. In addition, the available iPod/USB integrated interface system allows use of an iPod or other portable MP3 player through the USB port and control it through the audio controls.
The NissanConnect
SM
with Navigation System also provides warnings for curves, speed limit information and an eco route setting.
Other available Versa Note technology includes Nissan Intelligent Key with Push Button Ignition, Bluetooth Hands-free Phone System, RearView Monitor and SiriusXM Satellite Radio (SiriusXM subscription required, sold separately).
The Right Combination of Power and MPG

With entry-level buyers today looking for value not just in the initial purchase price but also in day-to-day operation, the 2014 Versa Note is designed to provide the perfect combination of fuel economy and performance.
Anchoring the front-wheel drive Versa Note is a 1.6-liter HR16DE 4-cylinder engine rated at 109 horsepower @ 6,000 rpm and 107 lb-ft of torque @ 4,400 rpm. The engine includes a range of cutting-edge technologies, including a dual fuel injector system that allows a wider injection of fuel (versus traditional single injector systems), with the smaller nozzles delivering a spray approximately 57 percent finer than the previous generation single injector design's particle size to help achieve more complete combustion.
The compact, lightweight engine also utilizes a Twin Continuously Variable Timing Control (CVTC) system mounted on intake and exhaust ports (versus conventional CVTC systems, which are mounted only on the intake port), similar to the system used on the flagship Nissan Maxima. Using a CVTC on the outlet port increases thermal efficiency, decreases inhalation resistance and offers an approximate four percent improvement in fuel efficiency (over the previous engine design).
The 2014 Versa Note is offered with a choice of two transmissions - a 5-speed manual transmission (S model only) or a next-generation Xtronic CVT transmission. The CVT allows continuous change of the transmission gear ratio by connecting the two pulleys with a metallic belt and changing their diameter by using hydraulic pressure.
Aiding efficiency is an integrated auxiliary gearbox using planetary gearing. The CVT features a transmission ratio of 7.3:1, broader than those of conventional CVTs and even typical 7-speed automatic transmissions. A CVT oil warmer transfers engine coolant heat to the CVT oil, helping reduce CVT friction during cold starts, increasing short trip fuel economy.
In addition to the advanced engine and transmission designs, excellent everyday drivability is provided by an independent strut front suspension with stabilizer bar, torsion beam rear axle with integrated stabilizer bar, and electric power steering. Braking is provided by standard power-assisted front disc/rear drum brakes with standard Anti-lock Braking System (ABS) with Electronic Brake force Distribution (EBD) and Brake Assist.
Versa Note rides on standard 15-inch steel wheels with full wheel covers and 185/65HR15 all-season tires, while 15-inch aluminum-alloy wheels and 16-inch aluminum-alloy wheels with 195/55HR16 all-season tires are available. Low rolling resistance tires are standard on all models.
Every Versa Note also carries the PUREDRIVE badge, which designates that means that Versa Note meets or exceeds the industry-average US Federal CAFE standards for model year 2016. Note is just one of a family of PUREDRIVE vehicles, reflecting Nissan's commitment to developing more environmentally friendly transportation for every market.
Standard safety and security systems include the Nissan Advanced Air Bag System (AABS) (includes dual-stage front supplemental air bags), front seat-mounted side-impact supplemental air bags, roof-mounted curtain side-impact supplemental air bags, Vehicle Dynamic Control (VDC), Traction Control System (TCS) and Tire Pressure Monitoring System (TPMS) with available Easy-Fill Tire Alert.
A Range of Well-Equipped Grade Levels, $13,990 Starting M.S.R.P.

The all-new 2014 Versa Note is offered S, S Plus and SV grade levels - with a starting Manufacturer's Suggested Retail Price (MSRP) of $13,990 USD.
In addition to the long list of standard features found on the Versa Note S with manual transmission, the Versa Note S Plus CVT adds Xtronic CVT, transmission position indicator, cruise control and Active Grille Shutter. Versa Note SV models include power windows with one-touch down feature, power door locks with speed-sensing auto-lock, Remote Keyless Entry, Bluetooth Hands-free Phone System, leather-wrapped steering wheel, chrome and silver interior accents, map light with key-linked illuminated entry system, driver's seat armrest, upgraded seat cloth and stitching and much more.
Four equipment optional packages are offered: SV Convenience Package, SL Package, SL Tech Package and Sport Value Package. The SV Convenience Package includes wide 2-DIN Display Audio with AM/FM/CD/iPod/Aux 4.3-inch display, SiriusXM Satellite Radio (SiriusXM subscription required, sold separately), USB input w/iPod control, RearView Monitor, rear seat armrest with cupholders and Divide-N-Hide Adjustable Floor. The SL Package includes the SV Convenience Package equipment, plus 16-inch aluminum-alloy wheels, 195/55R16 tires, front fog lights, variable intermittent front wipers, heated front seats, Nissan Intelligent Key with Push Button Ignition, Easy Fill Tire Alert and SL badge (replaces SV badge).
The SL Tech Package includes NissanConnect
SM
with Navigation with 5.8-inch color touch-screen display, Nissan Voice Recognition for audio and navigation, NavTraffic and NavWeather, POIs powered by Google, Google Send-to-Car, Streaming audio via Bluetooth, Hands-free Text Messaging Assistant, Around View Monitor and heated sideview mirrors. The Sport Value Package includes 15-inch aluminum-alloy wheels and a rear spoiler.
The 2014 Versa Note is assembled by Nissan Mexicana SA de CV in Aguascalientes, Mexico.
"At Nissan, innovation is more than just a new feature or technology, it's about helping people live their lives a little better, a little easier," concluded Loing. "This all-new Versa Note does that in many ways - with styling that excites, room for everyone, interior versatility for life's spontaneous moments, fuel efficiency for fewer trips to the gas station, entertainment and navigation systems that complement users' smart phones and other devices rather than compete with them. It truly is the door to more."
# # #
* AutoPacific segmentation. MY14 Versa Note v. 2013 Economy Compact Class, 5 passenger vehicles, excluding electrics and hybrids.
** AutoPacific segmentation. MY14 Versa Note v. 2013 Economy Compact Class, 5 passenger vehicles, excluding electrics and hybrids. 2013 EPA estimate for 2014 Versa Note 40 MPG Hwy. Actual mileage may vary - use for comparison only. Shares class lead with Ford Fiesta and Chevrolet Sonic.
*** AutoPacific segmentation. MY14 Versa Note v. 2013 Economy Compact Class, 5 passenger vehicles, excluding electrics and hybrids. 2013 EPA estimate for 2014 Versa Note 31/35 MPG City/Combined. Actual mileage may vary - use for comparison only.
**** MSRP excludes applicable tax, title, license fees and destination charges. Dealer sets actual price.
***** Base upon R.L. Polk Total Registrations from Aug. 2011 to Oct. 2012. 2012 Ward's Lower Small Segment.
Among MY13 competitors at time of print.